Organization and Management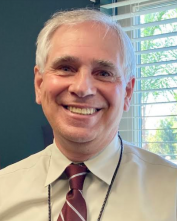 Bill Thomsen, Chief Executive Officer
I began my career with RSBCIHI in February 1996 as a temporary Property and Supply Clerk for several months before being hired to that permanent position. I then served as the Materials Management Officer for about three years. From there, the position of Quality Management Coordinator became available and I received a promotion to work in that capacity . Since February 2006, I have been honored to serve as RSBCIHI's Chief Operations Officer under the leadership of the CEO. My educational background includes a Bachelor of Science Degree in Business Management from the University of Maryland and a Master's Degree in Health Administration from the University of La Verne.
Mo Zayed, Chief Financial Officer
Mo Zayed has over two decades of experience as a financial leader, primarily working in the healthcare technology sector. Mr. Zayed has experience in multiple areas of finance, including strategic finance, treasury, risk management, accounting compliance, budgeting and planning, M&A and systems implementation. Prior to serving as RSBCIHI's CFO, Mr. Zayed was a finance executive and CFO responsible for multiple entities ranging from startups to publicly traded companies. During his tenure with Cerner Corporation, he also served as Cerner's Board of Directors representative at the American Pharmacy Alliance. Earlier on in his career, Mr. Zayed worked as a CPA for RSM, a leading national accounting firm. Mo earned a Bachelor of Arts Degree in Economics from Claremont McKenna College and an MBA in Finance and Information Systems from Case Western Reserve University.
Anthony Mazza, Chief Operations Officer
Anthony Mazza is the COO of Riverside-San Bernardino County Indian Health, Inc. Before being named COO in May 2021, Anthony was RSBCIHI's Director of Community Outreach and was responsible for the department's role in patient transportation and the connection between RSBCIHI and outside care through Public Health Nurses and Community Health Representatives. Anthony began his journey with RSBCIHI in October 2014 as a Registered Dietitian. He is a member of the Cahuilla Band of Indians and is honored to serve the entire Native community of which he is a part of. Anthony takes pride in doing what is right for the community RSBCIHI serves and for the entire staff of the organization. He earned his Bachelor of Science in Nutrition and Food Science from California State University, San Bernardino a Master of Public Health from Loma Linda University.
Information Technology Director
I have been the Director of Information Technology for Riverside San Bernardino County Indian Health since 1996. My experience is in Strategic Planning, Organizational leadership, and planning. Implementation of Practice Management and Electronic Health Records, Cybersecurity, Infrastructure design and development. Health Information Management, Patient Services and Registration, Implementation of Telecommunications, Telemedicine, Utilization Review. HIPAA Privacy and Security Laws. My career has spanned over three decades including Executive Staff – Senior Level management roles for healthcare organizations including inpatient and outpatients' medical centers.
Dr. Philip Farabaugh, Clinical Services Director
Ciera Espinoza, Human Resources Director